PERSUE YOUR DREAM OF SUPPORTING CHILDREN & TEENS
Hello and welcome, I'm so excited learn more about you and your passion for supporting and empowering young people. My name is Kim and I am the founder of Standing Strong and co-creator of the Youth Coach Course.
Since I was a teenager, I knew I wanted to help young people. My dream was to help children and teens to feel heard, connected, inspired and empowered to believe in themselves, and follow their dreams.
After completing my in Degree Behavioural Studies majoring in Youth Issues and Diploma in Holistic Counselling, I took the big leap (AKA massive life altering adventure) in 2013 to create Standing Strong; a youth organisation providing health and wellbeing programs, workshops and one to one coaching for children and teens. Since then, we have provided over 4000 face to face programs and supported countless children, teens, families, schools and communities.
During this time I have built a wealth of knowledge and experience in what it takes to not only work with young people, but to genuinely build a connection and make a difference. I have learnt what works, what doesn't, what's important and what's not. I've had the privilege of supporting and training hundreds of youth mentors, program instructors and youth coaches and can't wait to support more people to pursue their dream of working with children and teens.
I am beyond excited to be teaming up with Counsellor and Sexologist, Standing Strong Chief Operations Officer and head of Standing Strong Program Licensing & Instructor Training, Riki Shaw, to bring you the accumulation of both our knowledge and experience.
Together we believe EVERY child and family needs a Youth Coach and we are on a mission to make this happen!
WHO THIS COURSE IS FOR...
People who are thinking about working with young people and would like to learn more.
Students/professionals studying a service based modality e.g counselling, life coaching, teaching, nutrition, personal training, youth work or related, who are considering working with young people.
Graduates who are wanting to further their study in the area of child and youth support.
Professionals who are currently working with young people and looking for professional development.
Professionals who would like to start working with young people.
Teachers looking for greater ways to connect with students and parents.
WHY BECOME A YOUTH COACH?
Mental health is the single greatest health crisis facing teens and families today. Depression, anxiety, low self-esteem and poor body-image are at the forefront of this crisis.
Children and teens are looking for people who will listen to them and inspire them to believe in themselves.
Mental health for young people is at crisis point, Youth Coaches work with young people before crisis hits to help prevent the impact.
Youth Coaching is empowering and pro-active, it is designed to set young people up to be more resilient when faced with challenges.
Parents cannot do it alone and are looking for the support of Youth Coaches as much as their children are.!
You can help change the entire outcome of not only a child's life, but also a parents life, family's life and a community's life. It is the most rewarding, inspiring and life changing job in the world.
11 self-paced online video modules covering:
WHERE THIS COURSE CAN TAKE YOU...
Into working with young people on a one to one basis.
As the steppingstone into facilitating group programs and workshops.
Into further education and training.
Into building your own business or services.
Into expanding your own business or services.
As a steppingstone to becoming a Youth Mentor or Coach.


ENDORSED BY OPRAH WINFREY
"I want to tell you a little bit about Kim Smith (From Standing Strong), they are a Total Wellness Club for Girls teaching girls how to stand strong. One of the things they try to do is help girls believe in themselves and create deeper connections through after school programs in Perth. So if you're looking for something wonderful to support Standing Strong, Kim says her vision is for the girls hearts to feel full".
– Oprah Winfrey
WINNER OF THE TELSTRA BUSINESS WOMENS AWARDS
For 25 years, the Telstra Business Women's Awards have celebrated the success of Australia's female leaders and entrepreneurs. They recognise the exceptional work of women in leadership, to advocate for women in business, to help promote gender equality in the workplace, and to applaud the women who are paving the way for future generations.
Founder of Standing Strong, Kim Smith is winner of the 2020 Telstra Business Women's Award for purpose & Social Enterprise WA.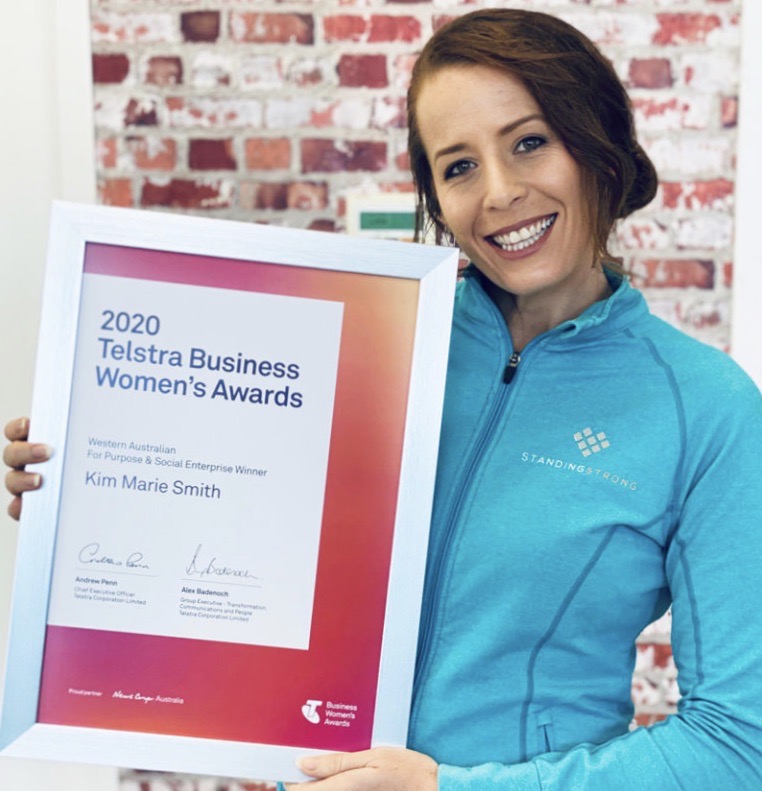 LEARN MORE ABOUT THE YOUTH COACH COURSE…
We can't wait to support you on your Youth Coaching journey and share our knowledge with you.
Our 11 module, self paced online course has everything you need to step into your Youth Coaching career.
To learn more about course cost, payment options and course reviews, please enter your details below.
Learn more…
Become apart of our online community and join us today from anywhere!
CONTACT YOUR LOCAL CLUB TO START FACE TO FACE CLASSES!